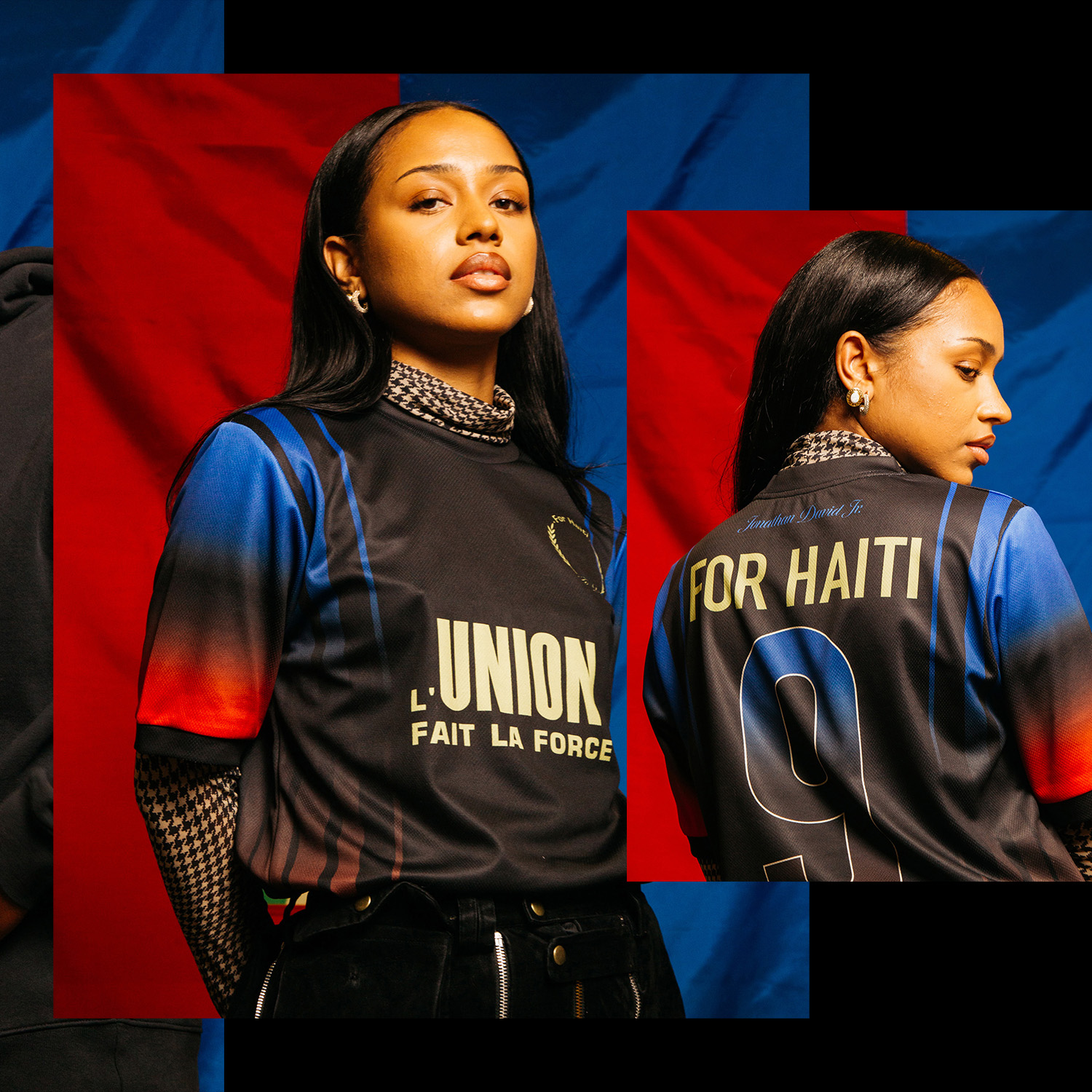 Lille OSC and Canadian Men's National team star footballer, Jo David recently partnered with former USMNT / MLS / Bundesliga player Tony Sanneh and The Sanneh Foundation to create positive social change for youth players in Haiti via The Haitian Initiative. This partnership will help feed, educate and coach over 320 young footballers in one of Haiti's most neglected areas.
To celebrate this partnership and raise funds for the program in Cite Soleil, Jo teamed up with Union in LA to create a collection of football streetwear accessories. Union owner and streetwear/fashion community leader Chris Gibbs answered the call and has donated all production expenses, his team's expertise and all proceeds from the sale of the collection to The Haitian Initiative. The line was co-designed by Jo's creative studio partner, Fly Nowhere and symbolizes the relationship between Haiti, USA and Canada. Although Jo represents Canada for international competition, he is a dual citizen born in Brooklyn to Haitian parents, before moving to Port Au Prince. There he spent his formative years developing his passion for football before his family relocated to Ottawa, Canada. By chance, Gibbs was born in Ottawa and celebrates his own Caribbean roots.
The Jo David x Union x Fly Nowhere capsule is comprised of 3 football jerseys, a hoodie, cap, traditional stadium scarf, bandana-flag and BDU jacket. The commonalities of football, fashion and geography unifying for the good of underprivileged children in Haiti is the foundation of the design narrative. Building on authentic football motifs and the heraldry of the North American nations inspired Fly Nowhere's design language for the capsule.
All proceeds from the sale of the Jo David x Union x Fly Nowhere collection collection will be donated to The Sanneh Foundation's Haitian Initiative.